End dental fear and anxiety with sedation as you relax in our Grand Junction office.
Here at Grand Dental, our number one concern is that you are comfortable. If you have significant fear or anxiety about going to the dentist, sedation dentistry may be just what you need! By simply taking a pill you can snooze through your dental appointment. You don't have to worry about having an IV placed. With sedation you won't even remember your appointment!
Your Grand Junction, CO dentist understands this, so he provides affordable treatment in a comfortable environment. Dr. Benefield offers sedation dentistry to fearful patients. Stress-free procedures are possible via sedation dentistry with nitrous oxide gas (inhalation sedation) or sedative pills (oral sedation).
Nitrous Oxide
Nitrous oxide or laughing gas is a mild sedative recommended for patients with mild to moderate anxiety. The gas is administered through a mask placed over your nose. You are conscious throughout the procedure, but you may feel a little groggy. The sedative effects disappear almost as soon as the gas is turned off.
Oral Sedation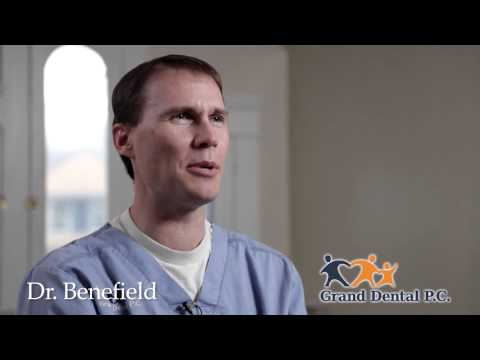 Oral sedation is recommended for patients who may easily gag or those with chronic dental anxiety. You take a pill about an hour before your appointment, so you are relaxed during the procedure. Patients have different reactions to oral sedatives, and the effects may last longer for some people. Dr. Benefield determines the correct dosage depending on your medical history and current medications taken. He also monitors your vital signs during the procedure to ensure safety.
Dental sedation eliminates anxiety and makes your experience pleasant. It also helps the dentist perform work quickly and efficiently. With the patient under sedation, procedures that require two or more trips to the dentist can now be done in one appointment.
Do You Fear Going to the Dentist?
Complete Dental Care in Our Office
Are you worried about needing dental work, but anxious and fearful about the dental visit? There are many reasons people hesitate going to the dentist and pain is the most obvious one. Because dentist appointments can be a scary experience, many patient's problems only worsen by waiting to receive treatment.
All of our patients that request sedation during dental work are pleasantly surprised. This stress-free option comforts those who have anxieties. We pride ourselves on creating a relaxed atmosphere and providing comforting results.
Here, at Grand Dental, we use two forms of sedation dentistry; nitrous oxide and oral sedation. Each one has it's own unique purpose. We work with you to decide the best option. Your medical history and current medications contribute to which form of sedation dentistry we use.
Nitrous Oxide
Nitrous oxide, also known as laughing gas, is a mild sedative. If you are looking for sedation that will relax you through the dental process, then this may be the answer for you. We can even provide this to you if you are visiting for a standard cleaning or any other dental service.
Oral Sedation
Oral sedation is provided to those patients who display a chronic fear of dentists or who may easily gag. We select the correct dosage for you and monitor your vital signs very closely. Your safety is of the utmost importance to us. We want your dental visit to be relaxed and comfortable. If you choose oral sedation, it is possible that you may fall asleep but the idea behind this option is to completely relax you. We know there may be questions you might have and we certainly encourage you to ask them. Please call us at 970-315-3718 and speak to any one of our friendly and qualified Grand Dental staff.
Make your next appointment at Grand Dental a stress-free one. Call 970-315-3718 today or click here to schedule a consultation.